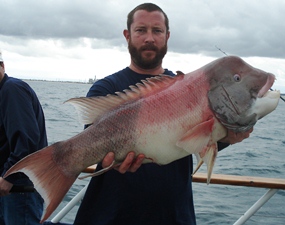 Year Round Deep Sea Fishing
Fish Catalina Island & Fishing Grounds Off Newport & Huntington Beach

Choose from the very popular full day or ¾ day general admission fishing excursion or the evening twilight fishing trip. Full day trip departs at 7 am and returns between 5 and 5:30 pm. This trip provides opportunities for giant gamefish such as yellowtail to over 40 pounds, white sea bass to 50 pounds plus, halibut, red snapper, tuna in season, dorado, barracuda, rock bass, and dozens more. Huge bait systems supply thousands of bait fish for fishing and chum. Fishing with such large quantities of chum increases fishing success tenfold and hundreds of fish a trip is the norm. Crew members to assist throughout the trip and large kitchen and indoor salon area ensures a comfortable and very successful outing. Fish cleaning services are available for small fee onboard.